HS2 and wildlife volunteers in the West Midlands partner up to find new homes for precious wild orchids
HS2 enabling works contractor LM JV is working alongside wildlife and ecology volunteers to relocate wild pyramidal orchids to a new home.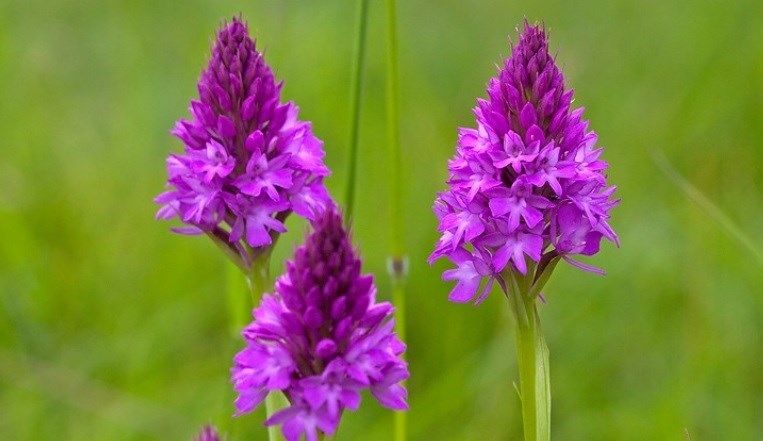 The orchids were growing on land near Coleshill that is being prepared for the new high-speed railway by HS2's enabling works contractor LM (Laing O'Rourke & J. Murphy). Local residents, a wildlife conservation volunteer, LM and their on-site contractor CLM worked together to translocate the plants to several locations across the West Midlands.

The team moved around 50 orchids to the Ladywalk Nature reserve near Coleshill; Nelsons Wharf, near Southam; and to Ryton Wood Meadows, near Coventry, where all the replanted flora is expected to thrive.
The pyramidal orchid is a small, distinctive wildflower with a dense, pyramid-shaped cluster of pink or purple flowers at the top of its stem which attracts a range of butterflies, moths and other invertebrates.
LM is preparing this part of the new HS2 railway from Birmingham Curzon Street as it swings north towards Lichfield. Much of their work involves environmental mitigation to ensure the biodiversity of local areas is preserved, as well as creating new wildlife habitats as part of HS2's large-scale Green Corridor programme.
This work includes projects such as translocation of ancient woodland soil, an unprecedented programme of tree planting, and new habitat creation designed to provide better connection to other existing features and habitats.
HS2's Phase One Lead Ecologist Kat Stanhope said:
"As we build Britain's new low carbon railway, it's crucial that we protect the natural environment and leave behind richer, more diverse and better-connected landscapes and wildlife habitats.
"This project is a fantastic example of how we're working with local communities and conservationists to protect and preserve Britain's precious natural environment."
Birmingham based wildlife conservationist Mike Slater said:
"Pyramidal orchids are a valued resource for encouraging butterflies, a great indicator of grassland quality, and stimulate biodiversity by encouraging invertebrates. I'm delighted that I could provide advice to LM on translocating these important plants."
Fiona Keates, Environment Manager at LM JV said:
"A priority for us at LM is to work closely with local residents, charities and volunteers to ensure we support communities and preserve the natural environment as we carry out our work in the region.
"We're extremely pleased to be working with specialist adviser Mike Slater on this environment project, and his knowledge and experience of translocating wildflowers has helped ensure that we could safely move the plants to their new home. Our West Midlands contractor CLM also provided staff and logistical support to transport the plants to their new location, and thanks are due also to the West Midlands Bird Club, who manage the Ladywalk Reserve."
HS2 has already created over 60 new wildlife habitats between Hillingdon and North Warwickshire including species diverse grassland, ponds and native tree and shrub planting, to support a broad number of species including newts, reptiles, badgers, birds, and bats. An example of this is Finham Brook in Warwickshire, where six new ponds have been created for great crested newts to breed in, extensive grassland has been planted to support local wildlife, and over 6,200 new trees have been planted featuring native species to the area such as oak, hazel, hawthorn and holly.
Amongst other projects, HS2 is salvaging ancient woodland soils to new receptor sites which will create new habitats for flora and fauna. The first ancient woodland soil salvage has been undertaken at Broadwells Wood, Birches Wood and Crackley Wood, where 55 coppice stools and 345 saplings have been replanted.
Press and media enquiries
For accredited journalists only you can contact our press and media team using the number below.
0207 944 6149