HS2 contracts helps Stone company Hideaway Media grow and recruit
Hideaway Media (Time-Lapse Systems) is one of over 2,100 companies already working on the HS2 rail project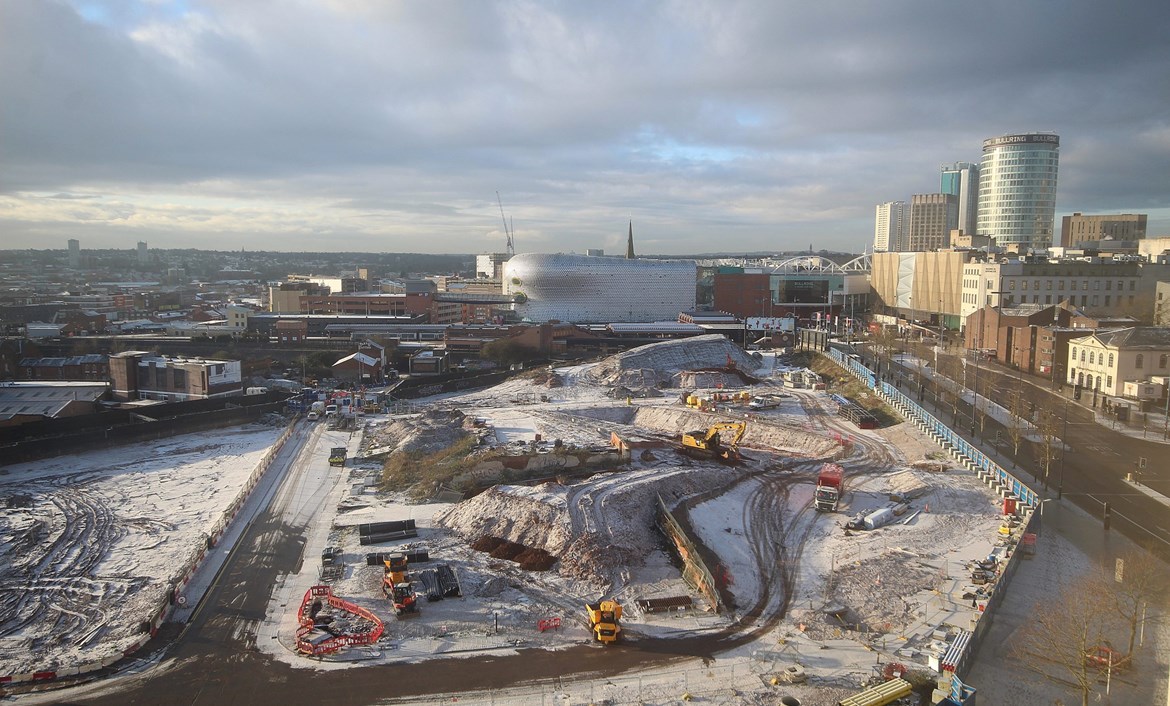 A small business from Stone, Hideaway Media (Time-Lapse Systems), is already reaping the benefits from being part of Europe's largest infrastructure project. The company won its first contract on HS2 in 2017, supplying site monitoring cameras, and time-lapse technology for the HS2 station site at Birmingham Curzon Street. They have gone on to provide drone footage and supply HS2 contractors in across sites in London, Warwickshire and the West Midlands.
Local businessman Gary Kelsall set up Hideaway Media (Time-Lapse Systems) in 2007, and now employs 17 people from Staffordshire and Stoke on Trent. Working on HS2 meant that the company could create 3 new full-time positions and has enabled them to invest to make the business more resilient and adaptable to grow in the future.
Hideaway Media's work on the project includes the end to end delivery of time-lapse footage for some works on the HS2 project. In Birmingham, they have worked with HS2's Enabling Works Contractor, LMJV (Laing O'Rourke and J. Murphy & Sons Ltd), covering works a site in the Heartlands area of the city where a HS2 depot is being built. They have also worked with CSJV (Costain Skanska Joint Venture) in London, capturing work taking place in Euston Square and St James's Gardens in Camden as part of the enabling works there. Footage from the cameras was also used in the BBC documentary series, Britain's Biggest Dig, which captured the archaeological works taking place on the project.
Using equipment that produces 6K ultra high definition images, the company also provides online viewing portals which can be accessed remotely to track and monitor, obtain images of ongoing work, review health and safety practices, and analyse workflow processes. During the ongoing pandemic, with the reliance on working remotely to reduce physical contact, these systems have been extremely useful for those working on HS2.
David Poole, HS2 Ltd's Commercial and Procurement Director, said:
"HS2 is already bringing substantial benefits to British businesses working on the project and Hideaway Media is a great example. The scale and complexity of HS2 means that we need businesses large and small with a wide range of expertise to work with us.

"We are excited about the talent and experience British businesses bring to the project and are keen to work with more companies to help us deliver this monumental project."
Speaking about working on the HS2 project, Gary Kelsall, Founder and CEO of Hideaway Media (Time-Lapse Systems), said:
"HS2 is a significant project and brings with it opportunities for businesses in Stoke and across Staffordshire. I have seen first-hand the ripple effect of benefits it creates down local supply chains. These opportunities are particularly welcome and important given the challenges faced by businesses due to Covid 19 and HS2 has been a real support for our business.

"Getting involved in the project has really pushed the team to raise the bar on the work we do and has helped us to develop and be in a better place to get work on other projects. Our Managing Director of Operations Andy Piekarczyk has been central to this, working closely with HS2 and their contractors to understand the requirements and bring all our work on the project together through our HS2 portal."
The construction of HS2 is now picking up pace between Birmingham and London, and the railway's progress further North has been confirmed, following the green light from government to extend the line from Birmingham to Crewe. HS2 Ltd and its contractors are reaching out to companies of all sizes from across the UK to bid for upcoming subcontract opportunities.
To date, HS2 Ltd has already awarded around £18bn worth of contracts directly and a significant proportion of this value expected to flow out to the wider supply chain. By the end of 2022, it's estimated this figure will reach around £25bn. Over 2,000 businesses have already won work on the project, with UK-based businesses making up 98% of contracts.
HS2 Ltd and its construction partners use the CompeteFor model to help match demand with supply. All subcontract opportunities are advertised on the portal, and businesses who set up a company profile can receive tailored alerts to opportunities that match their trade. As Britain strives to build back better, businesses of all sizes from across the UK are encouraged to get 'HS2 ready' and seize the opportunity to play a part in revolutionising our railways.
Press and media enquiries
For accredited journalists only you can contact our press and media team using the number below.
0207 944 6149