New footage of the discovery of the remains of Captain Matthew Flinders to be shown in BBC documentary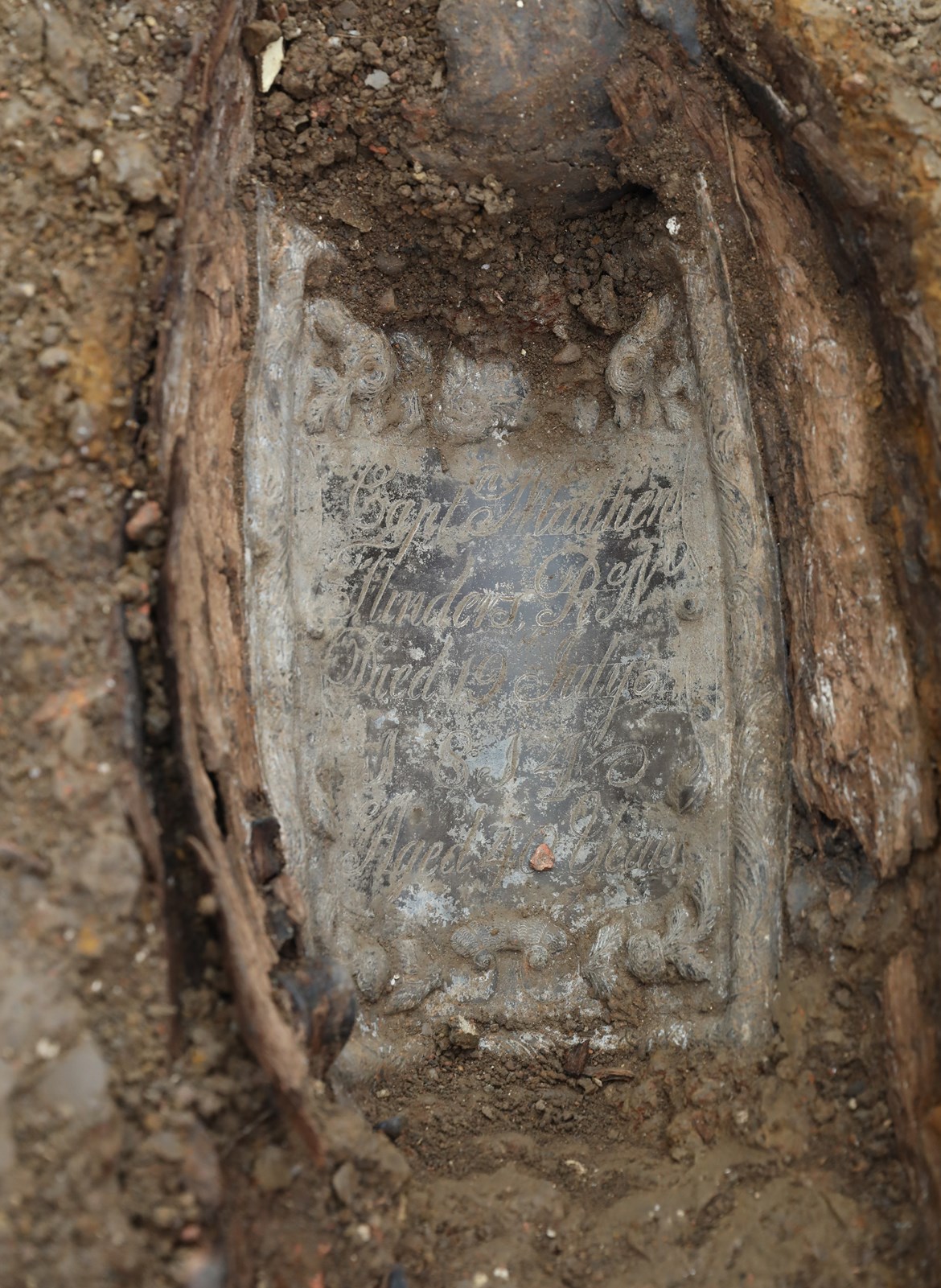 In January last year, archaeologists working on the HS2 project located the remains of Captain Matthew Flinders, the Royal Navy explorer who led the first circumnavigation of Australia and is credited with giving the country its name. The discovery sparked international media coverage and the find was captured on camera and will be showcased on the BBC Two Documentary, HS2 – The Biggest Dig, tonight (Tuesday 22nd September).
The previously unseen footage will reveal the moment when the coffin plate of the explorer was uncovered and the subsequent excavation of his coffin. Although it was known that his remains had been buried at St James's Gardens Euston in 1814, his exact whereabouts were unknown and an urban myth told that he was located under platform 15 of the current Euston station.
Captain Flinders was a renowned explorer and made several voyages. His most notable was as commander of the H.M.S. Investigator which he navigated around the entire coast of Australia. This made him the first known person to sail around the country in its entirety, confirming it as a continent. He is also credited with giving Australia its name, although not the first to use the term, his work popularised its use. His surname is associated with many places in Australia, including Flinders Station in Melbourne, Flinders Ranges in South Australia and the town of Flinders in Victoria.
Mike Court, HS2's Lead Archaeologist said:
"It is great that we are able to showcase this incredible find as part of this documentary, exploring the discoveries being made as part of HS2's archaeology work.

"The ability to document this, through the intact breastplate, was particularly exciting for archaeologists working on the project. It is also particularly exciting as Cpt. Matthew Flinders was the grandfather of renowned Sir William Matthew Flinders Petrie, commonly known as the 'Father of Archaeology."
In 2014, the bicentenary of his death, a memorial statue of Captain Matthew Flinders was unveiled by the Duke of Cambridge at Australia House and later installed at Euston Station. Virgin Trains also named one of its Pendolino trains "The Matthew Flinders". Following the discovery an event was held at Australia House in London to commemorate his life.
Bill Locke, from Lion TV who produced the documentary said:
"Being able to capture the moment that Captain Matthew Flinders' remains were discovered at Euston was significant and has become a focal point of the second episode of the documentary. It allowed us to delve into his story which is of worldwide historic significance and is a fascinating part of the programme."
The three part documentary series, HS2 – The Biggest Dig, continues on BBC Two on Tuesday 22 September and will be available on BBC iPlayer.
Press and media enquiries
For accredited journalists only you can contact our press and media team using the number below.
0207 944 6149