Veteran pear tree will live on in new woodland created by HS2
The veteran pear tree in Warwickshire, named by locals as 'The Cubbington Pear Tree' will live on in the form of regrown saplings as part of HS2's environment programme to support delicately balanced local ecosystems, and create bigger and more joined up habitats along the HS2 route.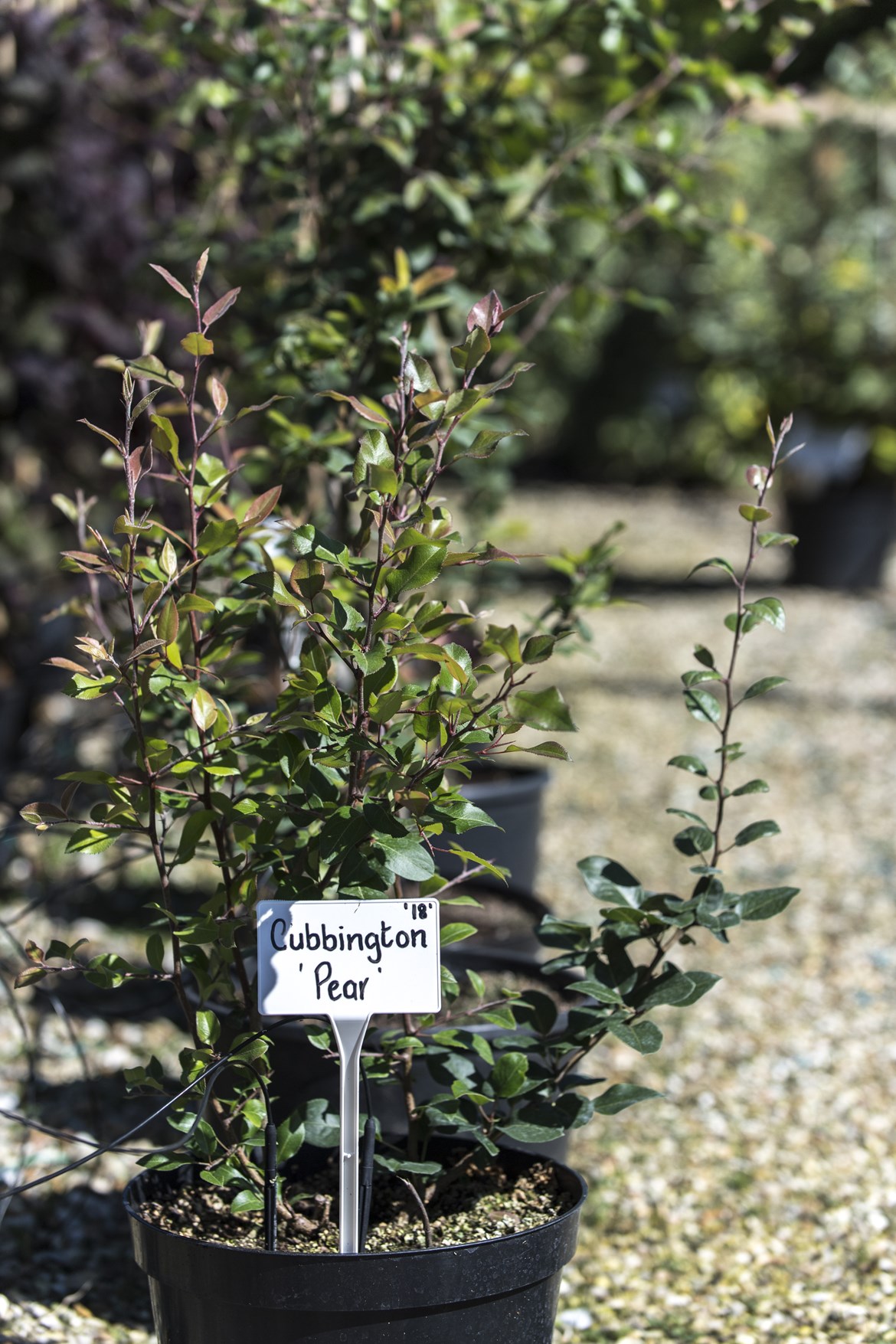 Over forty new trees have been grown from cuttings taken from the veteran pear tree, which was located in a hedgerow south of South Cubbington Wood, on land that is being prepared for Britain's new railway. Over the last few years, the HS2 team has worked with the local community and expert horticulturalists to make sure that the tree has a lasting legacy for future generations.
In 2014, horticulture expert Paul Labous (Master of Horticulture RHS) from Shuttleworth Agricultural College started to graft the tree from cuttings given to him by the Cubbington community. After confirming the DNA from the parent tree was 'true to type' for grafting onto a young pear seedling, Paul Labous successfully created grafted plants and presented the first one back to the community in 2015.
Since then, Paul Labous' methodology has informed a larger-scale project being managed by Crowder's Nurseries in Lincolnshire on behalf of HS2. Over 40 young pear trees have now been grown from cuttings and range from 100cm to 175cm in height. These are ready to be planted in new habitats being created by HS2's enabling works contractor LM JV (Laing O'Rourke and J. Murphy & Sons Joint Venture) over the next few months.
With a limited number of wild pear trees in the Cubbington area, the trees will be planted across new woodland sites to broaden the genetic diversity of this species. Some will be planted in the receptor site next to the wood, creating a legacy for the pear tree very close to its original location. HS2 is also keen to work with the local community to find other locations for saplings in and around Cubbington village.
Around South Cubbington Wood, HS2 will plant 6.2 hectares of broadleaved wood to compensate for the 2 hectares of habitat that is affected by HS2. The new area will link the habitats of South Cubbington Wood and the River Leam Corridor. In addition, 2 hectares of ancient woodland soils are being translocated to join up South Cubbington Wood and Weston Wood.
Around 80,000 trees have already been planted in the region and 40 ponds created, along with many acres of wetland, heathland and meadow providing new wildlife habitats including badger setts, bat houses, bird boxes and reptile banks to help local wildlife populations thrive and support delicately balanced local ecosystems.
Peter Miller, HS2's Environment Director said:
"We have a team of environmental experts working on HS2 using the latest scientific techniques to create the best solutions for our extensive ecology programme. The Cubbington Pear Tree project is a great example of initiatives we've put in place to enhance the biodiversity of areas around Britain's new railway, and leave a lasting legacy for local communities.

"All leading environmental organisations agree that climate change is the biggest threat to wildlife and habitats in the UK. We aim to design and build the most sustainable high-speed railway in the world, so that we can play our part in helping the UK to tackle climate change and reach net zero carbon emissions. By enhancing the natural environment as we build HS2, we will leave behind richer, more diverse and better-connected landscapes and wildlife habitats."
Commenting on his work, Paul Labous said:
"These ancient heritage specimens are sometimes difficult to propagate due to their age. We collected scion material for grafting onto Eline pear rootstock and to begin with had limited results, but as our trials continued we found that juvenile material taken from near the base of the tree gave rise to more success."
Crowder's Nurseries, a family run SME, was awarded an HS2 contract in 2016 and has already provided thousands of saplings and trees for the project, with 430,000 new trees already planted.
Managing Director of Crowder's Nurseries, Robert Crowder said:
"The HS2 contract has been a fantastic opportunity for us as growers to utilise the collective knowledge and skills acquired by our experienced nursery staff. Across our three production sites, from the container, tree, and forestry nursery we have been able to provide the HS2 project with the quantity and quality required for the essential planting of their Green Corridor. In addition to this it has been a real pleasure for us to do our bit in helping to preserve the legacy of the Cubbington Pear and we look forward to supplying the trees in the not so distant future."
Due to the age of the Cubbington Pear there was only a small amount of young cutting material available, so Crowders took several basal cuttings from older wood on various points around the tree. These were then potted and grown on inside a shaded poly tunnel to give them the optimum growing conditions. In addition to the cuttings, wood was selected from the previous season's growth for budding onto pear seedling rootstocks.
Both techniques are called vegetative propagation, meaning an existing part of the original tree has been used to create an exact copy, and these methods of propagation are widely used for the commercial reproduction of trees and shrubs. This has ensured that the DNA and characteristics of the Cubbington pear will be passed on to these new ones we have produced, essentially making them clones of the parent tree.
Up to 7 million trees will eventually be planted along Phase One, with many new recreational areas for communities to enjoy. Over 60 new habitat sites have already been created from Hillingdon to North Warwickshire, which support a range of habitats including grassland, woodland and scrub, ponds and features such as bat boxes, hibernaculum for newts and basking banks for reptiles.
Of the 43 ancient woodlands affected by HS2's route between London and Crewe, 80% of the total area will remain intact and not impacted. In Warwickshire alone, for those areas of woodland that will have to be removed, HS2 will be compensating by planting 14.5 hectares of new broadleaved woodland – almost double the area affected. The new planting will be designed to provide better connection to other existing features and habitats.
In addition to HS2's extensive tree planting programme, a separate fund has been established to help local landowners create new native, broadleaf woodlands and restore existing ancient woodland sites. Through the HS2 Woodland Fund, a total of £7m is supporting projects on Phase One and Phase 2a, and the first £1.2m has been allocated as part of a grant scheme managed on our behalf by the Forestry Commission.
ENDS
Press and media enquiries
For accredited journalists only you can contact our press and media team using the number below.
0207 944 6149